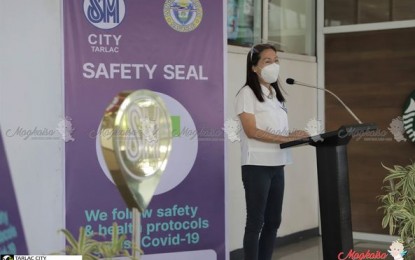 The local government unit (LGU) here awarded on Tuesday a safety seal certification to SM City Tarlac, the first mall in the locality to receive such an award for its strict minimum public health standards (MPHS) against coronavirus disease 2019 (Covid-19) in its stores and workplaces.
Mayor Cristy Angeles thanked SM City which, she said, has been cooperative and compliant with the national, provincial and city Inter-Agency Task Force (IATF) protocols since the start of the pandemic.
"Congratulations to SM City Tarlac for the safety seal that the city government of Tarlac is giving to you. May we have many more years of good working relationship," she said in an official social media post.
Angeles also asked for the help and cooperation of the residents and the business sector in the continuing fight against Covid-19.
"We do not know until when, we do not how this pandemic will end, the only hope we see right now is herd immunity or vaccination. Unless everybody in the city will be fully vaccinated then there is no assurance as of the moment. Let us all help each other so that our people will be safe from this Covid-19 virus. Ang Tarlac city government po nandito lang para tumulong sa lahat ng businesses para malagpasan natin ang pandemya (The Tarlac city government is here to help all the businesses in order to overcome this pandemic)," the mayor said.
The safety seal certification is a voluntary certification scheme that affirms an establishment's compliance with the MPHS set by the government, and use or integration of its contact tracing process with StaySafe.ph.
It is being given by the Departments of the Interior and Local Government, Health, Trade and Industry, Tourism, and Labor and Employment, subject for renewal every six months.
For the private sector, the certification is issued by the local government.
The safety seal will be displayed at all entrance points of the establishments to assure clients that they are compliant with the MPHS. (PNA)
Source: Philippine News Agency