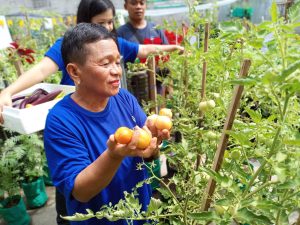 For retired teacher Herminia Posadas, learning never stops.
The 64-year-old educator turned farmer-entrepreneur welcomes life lessons through experiences with her home garden in Barangay Angliongto.
She is proud to say that her 50 sqm backyard of greens is producing food for her family. She is also able to sell homegrown seedlings and crops on the side, making good business every season.
"I want to learn more about how I can do this better," she said in vernacular.
Her passion for gardening also shows her interest to share her knowledge to others, as evident in regular participation in barangay seminars.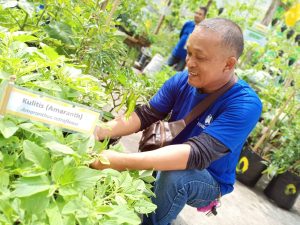 Participants had hands on with farming in urban settings
The past 12 weeks were not any different for Posadas. She was busy learning and gardening on weekends through a training series by the SM Foundation and its partners.
She is one of the 136 participants of this year's Kabalikat sa Kabuhayan (KSK) – Rural and Urban Farmers Training Program.
Ms. Cristie Angeles, SM Foundation outreach programs AVP, celebrates the harvest of the Davao participants
This is a project by The SM Foundation Inc., Harbest Agribusiness Corporation and Macondray Philippines, Department of Agriculture, Department of Social Welfare and Development, the City Government of Davao, SM Supermalls, SM Markets and BDO Foundation.
The Davao project run took place in the Davao Food Terminal
Read more:  click on the link